Some of the new products on show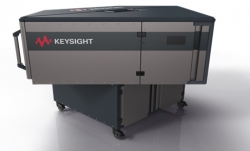 One of the most ambitious areas of automotive innovation is autonomous driving. Advanced driver assistance systems (ADAS) are dramatically improving safety and will save many lives. Car makers, automotive suppliers, governments, academics and even non-automotive technology providers are jointly developing a new automotive ecosystem by combining a wide variety of advanced technologies to make autonomous driving a mass-market reality.

Sensor fusion, high-speed information systems and vehicle-to-everything (V2X) communications form the foundation, feeding real-time data to powerful artificial intelligence (AI) that can then direct critical actions such as steering or braking in milliseconds. To prove their mission-critical technologies are safe, designers and engineers must not only implement the most reliable technologies but also validate and demonstrate accuracy and dependability by using the best simulation and test solutions. Keysight Technologies delivers innovations in design, simulation and testing to help automotive industry designers and manufacturers create high-quality, high-performance products while mitigating safety risks across the entire lifespan.

Automotive radar creates opportunities for auto makers to enhance vehicle safety through better identification of dangerous situations. Achieving the next level in vehicle autonomy demands robust algorithms trained to interpret radar reflections from automotive radar sensors. Keysight's first-to-market Radar Scene Emulator, backed by over 23 patents, combines hundreds of miniature radar target simulators into a scalable traffic emulation screen that can emulate up to 512 objects at distances as close as 1.5m. With Keysight's Radar Scene Emulator, engineers can shift the testing of complex driving scenarios from the road to the controlled, repeatable environment of the lab, dramatically accelerating test speeds. With radar sensors and algorithms confidently tested against the complexity of real-world driving scenarios, algorithms can be verified and trained more thoroughly, which is key to enabling ADAS and next-generation vehicle autonomy sooner with less risk.