Speaker Details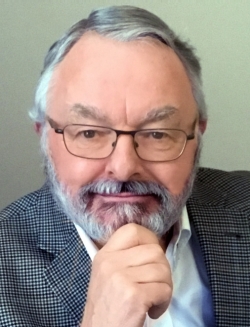 Barrie Kirk
Barrie Kirk, P.Eng. is the executive director of CAVCOE (formerly the Canadian Automated Vehicles Centre of Excellence). He is a well-known consultant, speaker and broadcaster on automated vehicles, and has advised many public- and private-sector organizations on planning for the CAV era. Barrie has worked in the technology industries in Canada, the US and the UK, including senior management positions in Ottawa-area companies. He received a BSc (Honours) in electrical engineering from Coventry University in the UK and is a professional engineer.
---
Presentation
The challenges of CAVs and winter weather
It is definitely more challenging to design, validate and test CAVs for winter weather conditions than for fair weather. There are a wide range of issues including sensors that are obscured by snow and/or ice, and AI that sees snow as an obstacle to be avoided. There are also a range of strategies. Winter weather data sets and simulations are useful but need to be validated in real winter conditions. Similarly, cold chambers can create a wide range of weather conditions, but past experiences have shown their limitations. Thompson in Manitoba, Canada, has long cold winters. Over the last 20 years, Thompson has hosted teams from manufacturers of cars, jet engines and snowmobiles. A key feature is a 26km road over a frozen lake that is cleared to provide an eight-lane winter highway.