Products on Show
Day One: Monolith presentation: How BMW uses AI to accelerate crash tests
Monolith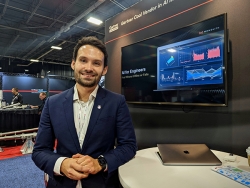 Day 1 of Automotive Testing Expo has seen Dr Richard Ahlfeld, CEO at Monolith, give a presentation on How BMW uses AI to accelerate crash tests at the Technology Presentation Stage.

Ahlfeld revealed how, using Monolith's no-code AI crash testing software, BMW Group engineers built self-learning models using existing crash data and were able to accurately predict the force on the tibia for a range of different crash types without doing physical crashes. This game-changing approach will enable engineers to reduce physical tests and cut product development time by 50%.

Ahlfeld revealed that the Monolith AI crash testing platform was developed with a laser focus on user experience by automotive experts and data scientists to ensure seamless integration with existing engineering processes.

He continued, "by adopting data-driven methods and self-learning models, engineers can optimize crash performance earlier in the design process and reduce dependence on time-intensive, costly testing whilst making historical data infinitely more valuable.

"The accuracy of the self-learning models will continue to improve as more data becomes available and the platform is further embedded into BMW's engineering workflow and functions across R&D that generate vast amounts of data from crash testing to aerodynamics, motorsports and advanced driver-assist systems [ADAS]."

Ahlfeld explained, "We're in Detroit to share the results of our work with BMW and share ideas on the future of engineering - namely the role of AI." He continued, "We're looking forward to expanding our network and further understanding the needs of engineers. We had a great experience at Automotive Testing Expo Stuttgart so look forward to more of the same."

Monolith is also sharing its swarming technology on the exhibition floor: stop by Booth 15036 to speak with representatives.