Products on Show
DAY: 3 Tailored digital twins in target locations for ADAS and AV testing
MORAI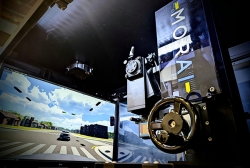 In Stuttgart, MORAI is displaying MORAI SIM: Drive, its innovative digital twin simulation platform that targets specific regions. The South Korean startup is already making an impact within the ADAS and AV sector with its simulation solution, tailored to 'target locations'. According to MORAI, feedback from stakeholders and customers has been positive and is what draws them to the company.
---
Day 3: High-resolution digital lidar for superior 3D perception in all weather conditions
Ouster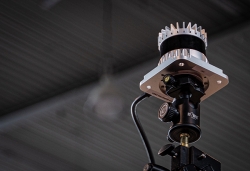 At this year's ADAS & Autonomous Vehicle Technology Expo in Stuttgart, Ouster is showcasing its newest OS sensor hardware release, Rev 06. Powered by the company's new L2X chip and equipped with the latest firmware that offers full dual-return capabilities and doubles the signal processing power of all its OS sensors, Rev 06 provides superior 3D perception through fog, rain, dust and snow.
---
DAY 2: MicroVision unveils new lidar product line to enable high-speed highway safety features
MicroVision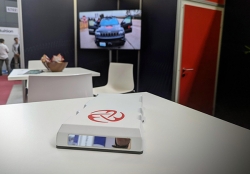 MicroVision is in Stuttgart to introduce its new generation of sensors, developed with an OEM-friendly design to enable high-speed highway safety features. The MAVIN DR is a dynamic-view lidar system that will enable new ADAS safety features, meeting the need to see further with greater clarity and respond more quickly to emerging situations.
---
DAY 2: Solid-state lidar for accurate near-field perception and more
Velodyne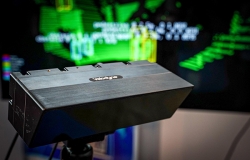 Velodyne Lidar EMEA is presenting its latest hardware and software solutions at the expo. Its Velarray M1600 solid-state sensor has been designed for autonomous applications in public, commercial and industrial environments and is optimized for accurate near-field detection for autonomous platforms.
---
DAY 2: Advanced triple-band antenna and smart GNSS signal splitter provide RTK and PPP accuracy
Tallysman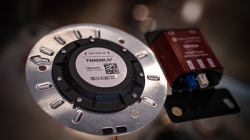 Tallysman is at ADAS & Autonomous Vehicle Technology Expo in Stuttgart to demonstrate its RTK (real-time kinematics) and PPP (precise point positioning) accurate antennas, featuring a tight radio frequency phase center variation (L1/L2/L5, etc), strong multipath mitigation, wide bandwidth to support all constellations and their spread spectrum signals, as well as deep filtering to mitigate near band signals.
---
DAY 2: Full solid-state lidar modules boast next-level sensing
Marelli Automotive Lighting
Marelli Automotive Lighting and XenomatiX have combined their expertise in optics and electronics to create a new line-up of lidar modules for autonomous vehicles, which they are presenting at the expo.
---
DAY 2: Open-architecture solution for rapid prototyping and AD development
Klas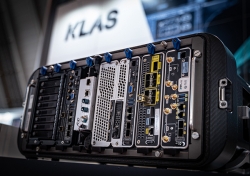 Klas has announced at the expo that its RAVEN (Ruggedized Autonomous Vehicle Network) open-architecture solution for rapid prototyping and development of ADS and ADAS now supports logging from GMSL2 cameras.
---
DAY 2: Simplified ADAS testing with model-based, virtual development
Elektrobit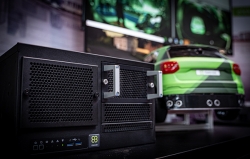 Elektrobit is in Stuttgart to share how it can help simplify the development process in ADAS testing with model-based and virtualized development. It aims to help companies develop profitable embedded software programs that will validate test drive scenes and avoid expensive simulation.
---
DAY 2: AVL showcases its ADAS/AD portfolio, validation toolchain and proving ground
AVL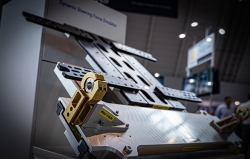 AVL is exhibiting its complete ADAS/AD portfolio, from ADAS/AD engineering services to ground truth data generation, data management and analytics, scenario-based test preparation and virtual testing solutions with its steering force emulator.
---
DAY 2: Automated driving full software stack with reusable, model-space-based perception
aiMotive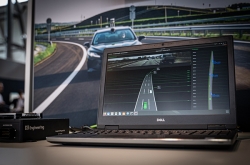 aiMotive is showcasing the latest generation of its automated driving full software stack, aiDrive 3.0, featuring in-house, model-space-based perception, which the company says is the foundation for higher-level automation but achieves much more than that.
---
DAY 1: Make sense of massive amounts of automated driving data with Simcenter Scaptor
Siemens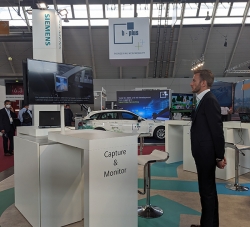 Siemens is in Stuttgart to display its Simcenter Scaptor (sensor capture), which provides high-speed in-vehicle recording with a scalable and flexible hardware platform to capture, synchronize and store vast amounts of raw data under rugged test conditions.
---
DAY 1: 3D millimeter-wave radar simulator for autonomous driving
OTSL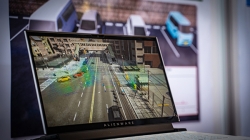 OTSL is in Stuttgart to unveil its new 3D real-time millimeter-wave radar simulator for autonomous driving, the AMMWR2 (Advanced Millimeter Wave Radar Simulator 2).
---
DAY 1: Cloud platform enables large-scale regression testing and more
Cognata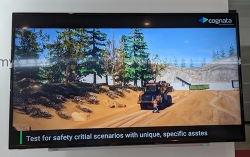 Cognata is displaying a new Cloud platform that can manage data from simulations and real-world driving, as well as provide a full ADAS lifecycle management platform, on the first day of ADAS & Autonomous Vehicle Technology Expo, in Stuttgart, Germany.
---
DAY 1: Synthetic sensor data platform provides high-fidelity training data in real time
Applied Intuition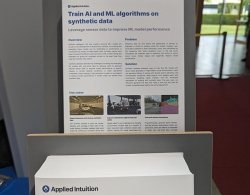 Applied Intuition is presenting its synthetic sensor data platform that reduces the complexity and cost of data collection and manual labeling on Day 1 in Stuttgart.
---
DAY 1: Deep learning AI inspection to speed up data curation and labeling
AIMMO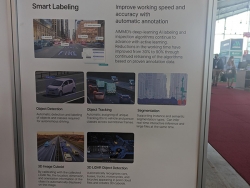 AIMMO is in Stuttgart to launch its Smart Labeling technology to the European market, claiming it can significantly reduce the time between data acquisition and availability of high-quality training data, enabling new scenarios, locations and edge cases to be trained faster.
---
DAY 1: Highly immersive, compact aVDS-S from AB Dynamics accelerates ADAS development
AB Dynamics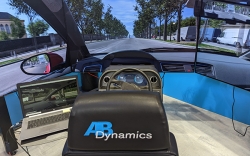 AB Dynamics presented its compact aVDS static driving simulator (aVDS-S) on Day 1 of the show. It features an active brake pedal and steering force feedback system for enhanced immersion, meaning it can be used for more advanced applications than traditional static simulators, such as regenerative braking control strategies and power steering calibration.
---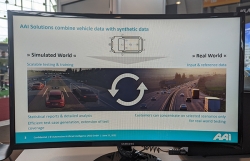 On the opening day of ADAS & Autonomous Vehicle Technology Expo in Stuttgart, Automotive Artificial Intelligence (AAI) is providing live demonstrations of its knowledge and data-driven approaches to its simulation platform, ReplicaR of the World, which combines vehicle data with synthetic data.
---
Complete toolbox for smart data harvesting
b-plus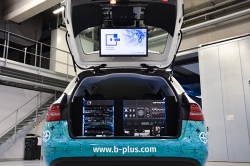 At the expo, b-plus will show a complete toolbox for smart data harvesting, following the complete data path from the sensor to the cloud, especially for ADAS and AD data. Visitors will see solutions for the extraction of raw sensor data via special interfaces and distribution via network switches in the vehicle.
---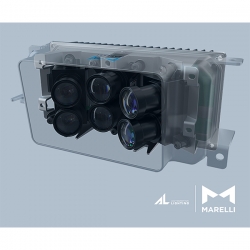 Marelli is one of the world's leading automotive suppliers, characterized by an innovative spirit, international expertise and worldwide presence. XenomatiX and Marelli Automotive Lighting have collaborated to create a new line-up of lidar modules; their strong backgrounds in optics and electronics have enabled them to release this technology into the automotive market.
---
All-in-one data service platform to scale up AI
Infiniq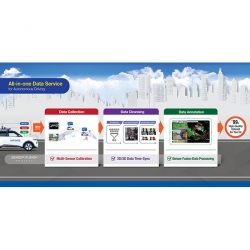 Infiniq, a leading AI data service provider in Korea, will showcase its most up-to-date data processing technology and solution for autonomous driving at ADAS & Autonomous Vehicle Technology Expo in Stuttgart, and tell visitors about its all-in-one data service platform: Infiniq Data Studio.
---
Simulation software for dynamic headlight development
rFpro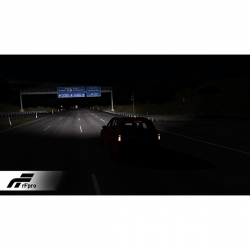 rFpro offers the industry's most advanced and immersive simulation solution for dynamic headlight development. Premium lighting systems supplier ZKW is now using rFpro's simulation software to develop all its headlight products.
---
Digital law pipeline for machine-executable legislation and autonomous compliance
Nalantis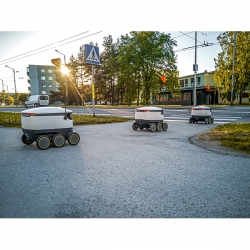 Verses is powering the spatial web. Nalantis is a next-generation language technology company. Together, they are building a 'digital law pipeline' for machine-executable legislation and autonomous compliance.

Both companies are applying natural-language-understanding AI to automatically deconstruct human-written legislation into meaningful semantic code and integrate it within an open geospatial digital infrastructure based on spatial web standards.
---
High-performance removable data storage for efficient ADAS & AD validation
ViGEM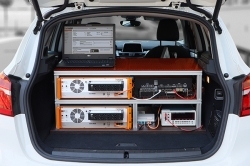 The robust CCA S10xxT high-performance removable data storage devices from ViGEM are specially designed for fast data transfer in the validation of innovative driver assistance systems (ADAS) and autonomous driving (AD).
---
AI deep learning technology supercharges MLOps
AIMMO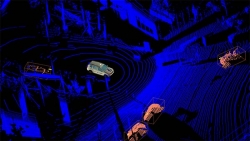 At the expo, AI data specialist Aimmo will launch its patented deep learning AI 'smart labeling' and inspection technology to the European market.
---
Holistic testing of in-vehicle networks to support TSN communication
TSN Systems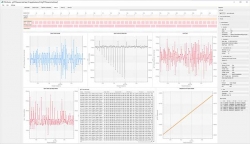 TSN Systems will showcase its next iteration of TSN Tools and TSN Box. This ecosystem is a holistic solution for the analysis and testing of in-vehicle networks that supports Time Sensitive Network-based communication.
---
High-performance radars for increased safety of autonomous vehicles
Smartmicro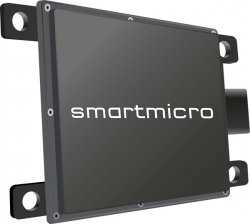 The many safety-improving features of Smartmicro's radars premiering in 2022 include detecting potential collisions, triggering warning signals to the vehicle's driver and supporting automated parking.
---
High-speed in-vehicle data recording
Siemens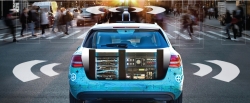 The introduction of higher levels of autonomy in modern vehicles by means of advanced driver assistance systems (ADAS) and fully autonomous cars in the longer term, comes with the requirement for extensive testing.
---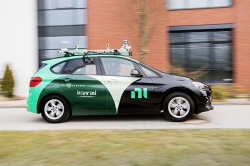 Recording sensor data on the road remains crucial to the autonomous driving sector, as this is one of the key data sources for the data- and software-connected ADAS and AD validation workflow.
---
Open-architecture, ruggedized platform for AV development
Klas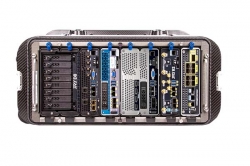 At this year's expo, Klas will showcase its Ruggedized Autonomous Vehicle Network (RAVEN): an open-architecture platform for the development and assessment of autonomous driving stacks.
---
Synthetic sensor data platform for machine learning
Applied Intuition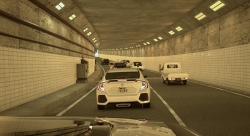 Representatives from Applied Intuition will be on hand at the expo to share more about the company's research on effective applications of synthetic training data.
---
Open-innovation autonomous vehicle and testing platform
OPINA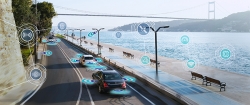 OPINA is building one of Europe's leading open-innovation autonomous vehicle (AV) design and development platforms together with important cluster services to support SMEs, startups, R&D organizations, OEMs, academics and researchers.
---
Offboard and onboard validation and verification
Ivex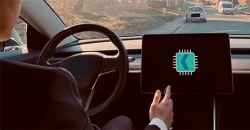 Ivex solutions enable engineers to speed up the AD/ADAS development and validation cycle without compromising safety.
---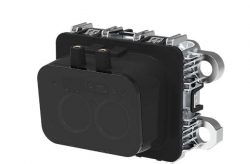 Now that ADAS and AD systems have arrived in the compact class and manufacturers are vying for Level 3 certifications, no OEM can ignore modern driver assistance and automated driving systems.
---
AI certification, vehicle cybersecurity homologation and certification services
CertX AG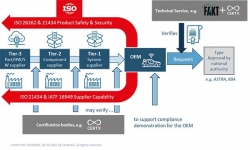 Artificial intelligence has already become an everyday technology: voice recognition, autonomously flying drones and even self-driving cars.
---
Triple-band antenna and smart GNSS signal splitter
Tallysman
Tallysman Wireless, a Canadian manufacturer of high-precision GNSS antennas and accessories, will demonstrate its automotive-certified triple-band antenna (TWA928L) and smart GNSS signal splitter (TW162A) at the expo.
---
Soft-body physics simulation with autonomous sensor suite
BeamNG GmbH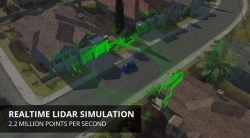 BeamNG is an international tech company operating in the automotive and gaming industry with two products: BeamNG.tech and BeamNG.drive.
---
Cloud-based data management and analytics
Intempora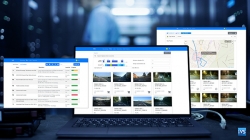 Intempora will present its Intempora Validation Suite (IVS), a cloud-based data management and analytics tool for automated driving.
---
Vehicle dynamics models for autonomy simulation
Mechanical Simulation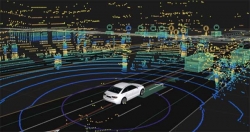 Mechanical Simulation Corporation will be in Stuttgart to explain more about its recent acquisition by Applied Intuition and how this will allow customers to combine Applied's simulation and software tools for autonomous vehicle (AV) development with its own vehicle dynamics simulation software.
---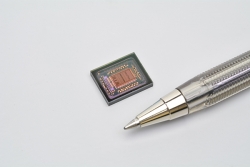 From flash to scanning, ToF to FMCW, 905nm to 1,550nm and APD to SPAD, many considerations must be made when designing a new lidar module.
---
Absolute positioning for AVs
Trimble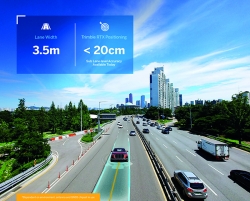 Trimble will demonstrate its absolute positioning solutions that complement relative sensors within an ADAS or autonomous vehicle system.
---
True solid-state multi-beam lidar
XenomatiX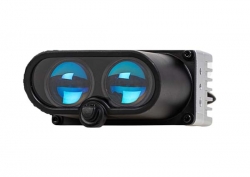 In 2021, XenomatiX launched XenoLidar-X, a true-solid-state lidar designed for high-resolution, accurate analysis of the vehicle's surroundings.
---
HIL demo: connecting physical ECUs to simulation software
Xylon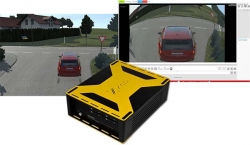 Embedded electronics specialist Xylon is offering live demonstrations of its complete demo HIL system that converts sensory data generated by a software simulator into real automotive stimuli for the attached parking assistance ADAS ECU.
---
Advanced technology for platooning
Horiba Mira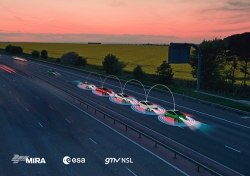 The PLATONIC project, a collaboration between HORIBA MIRA and GMV NSL, funded under the ESA Navigation Innovation and Support Program (NAVISP) stimulating innovation in the PNT domain, addresses advances in cooperative positioning and integrity algorithms for platooning applications.
---
Visualization and sensor realism for virtual test drives
dSPACE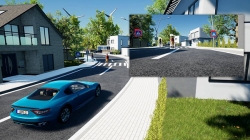 In Stuttgart, dSPACE will be presenting Aurelion, its new solution for sensor-realistic simulation, which integrates high-quality visualization and realistic sensors into processes for developing and validating driving functions.
---
Seamless lidar integration for 360° visibility
Blickfeld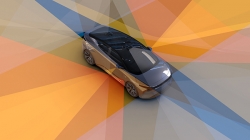 At this year's show, Blickfeld will be highlighting its seamless integration concept for lidar sensors to allow an all-round view.
---
Heaters to maximize sensor performance
Backer Calesco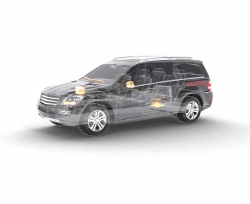 Those seeking to safeguard their sensors should visit Backer Calesco's booth, where the company will showcase heaters for different types of ADAS and AV sensors, including front-view, side-view, rear-view, radar, lidar and parking cameras.
---
Accelerating a safe and autonomous future
AVL List GmbH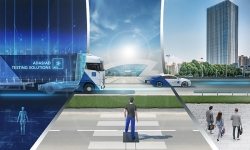 Visitors looking for the latest engineering services, simulation competence, testing tools and methods to aid the evolution of automated driving (AD) should head for AVL's booth in Stuttgart.
---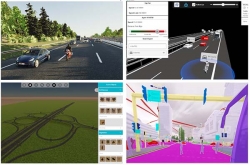 At this year's expo, Automotive Artificial Intelligence (AAI) GmbH will showcase its 'Replica of the World' (Replicar) simulation platform for near-to-real-life MiL, SIL, HIL and VIL testing. Its complete solution portfolio is based on Replicar and consists of tools and services for smart and efficient testing and validation of ADAS/AD systems in simulation.
---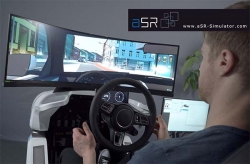 For safety reasons, legislation only allows for Level 3 and Level 4 vehicle automation under very specific conditions: for example, a safety driver must be able to intervene in critical situations.
---
Automated driving full software stack
aiMotive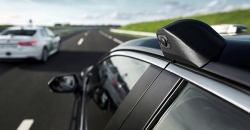 The complexity of driving automation has advanced significantly since the development of assisted driving systems with L2 ADAS functions, such as adaptive cruise control or lane keeping.
---
Compact aVDS static driving simulator
AB Dynamics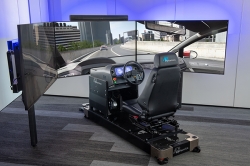 At ADAS & Autonomous Vehicle Technology Expo 2022, AB Dynamics will be presenting its compact aVDS static driving simulator, which uses key componentry and software from the dynamic aVDS and packages it in a compact, easy-to-install and portable format.
---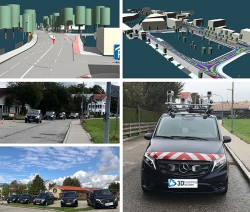 High-precision HD reference map data is fundamental for the validation and testing of autonomous vehicles and as the basis for simulation applications.
---