Products on Show
High-performance removable data storage for efficient ADAS & AD validation
ViGEM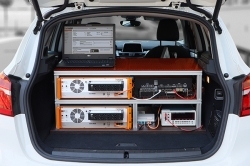 The robust CCA S10xxT high-performance removable data storage devices from ViGEM are specially designed for fast data transfer in the validation of innovative driver assistance systems (ADAS) and autonomous driving (AD). To meet specific project requirements in test vehicles and development environments, the data storage modules of the CCA 9010 series are available in different variants, from 16-64TB in the standard (0° to +50°C) and extended (-20° to +65°C) temperature ranges.

For demanding projects, ViGEM can also offer data storage capacities of up to 128TB on request.

As test vehicles are often on the road for months and in harsh environments worldwide to collect enormous amounts of traffic and vehicle data, the measurement electronics installed in the trunk must withstand high mechanical and thermal loads. ViGEM's validated removable data storage devices have been designed for long-term projects. The high-quality electronic components are reliably protected from mechanical stress in robust metal housings.

All data storage variants feature a continuous bandwidth of up to 32Gbit/s, which enables use in numerous project-specific applications such as ADAS, AD, V2X or test benches. Due to hardware encryption according to AES-256 and OPAL 2.0 standards, the removable data storage devices offer maximum data security during the transfer from the data logger to the data center. The modules are hot-pluggable and can be exchanged during operation. When the test run is finished or the removable data storage is full, it can be quickly and easily replaced and sent to the data center. Test fleets can thus be utilized very efficiently, as the removable storage devices are directly available for renewed use in the field after the successful transmission of data.

Booth: 6008

ViGEM will also be presenting its CCA 9010 solution with high-performance data storage modules at the adjoining Automotive Testing Expo. For more information, visit products on show.