Products on Show
DAY: 3 Tailored digital twins in target locations for ADAS and AV testing
MORAI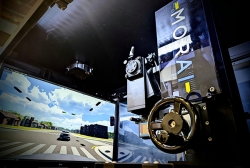 In Stuttgart, MORAI is displaying MORAI SIM: Drive, its innovative digital twin simulation platform that targets specific regions.

The South Korean startup is already making an impact within the ADAS and AV sector with its simulation solution, tailored to 'target locations'. According to MORAI, feedback from stakeholders and customers has been positive and is what draws them to the company.

"Nothing can replace real-world testing; however, an enormous amount of time and cost is needed," explained Hyunjin Park, tech team leader at MORAI, live at Automotive Testing Expo Europe, held adjacent to ADAS & Autonomous Vehicle Technology Expo. "Vehicles didn't need to be tested as much when they were solely driven by humans, but now that we are giving more power to a computer, more testing is needed; even more so with autonomy."

Hyunjin revealed that by using targeted simulation, MORAI has helped stakeholders and customers reduce real-world testing by 50%: "For a company that might drive six million miles to test a vehicle, they will instead drive three million miles, saving on costs."

"MORAI uses its ADAS and AV simulation platforms to enable OEMs to test every single component beforehand, running software-in-the-loop, hardware-in-the-loop, and vehicle-in-the-loop tests for all three stages of development," Hyunjin continued.

The company provides stakeholders with a simulation environment based on actual roads, sensor models and edge cases to test their ADAS. It uses HD map data from several companies and ingests it into its software suites, creating road meshes from that data in a fast, automated process.

"All simulation is an approximate representation of the real world. MORAI provides sensor models within a highly detailed environment, provided by simulation. Visual realism is important for recognizing objects in a scene with computer vision-based AD or ADAS applications. We are also focused on other types of realism: vehicle dynamics and the realism of scenarios themselves," concluded Hyunjin.

MORAI is also showcasing MORAI SIM as a high-fidelity solution that can trick a real test vehicle into thinking it is in a simulation by combining vehicle-in-the-loop and mixed reality testing. With the gradual evolution of sensor technologies and hardware, such as from mechanical-based lidars to solid-state lidars, simulations too are constantly evolving.