Speaker Details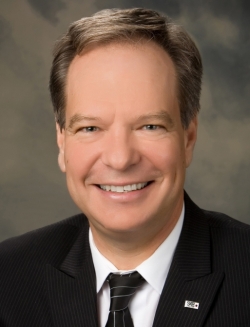 Mircea Gradu
Dr. Mircea Gradu is an Adjunct Professor at the University of California Irvine Henry Samueli School of Engineering, and a member of the Horiba Institute for Mobility and Connectivity. Most recently he also held the position of Senior Vice President with Velodyne Lidar, in San Jose, CA with focus on Automotive Programs. Mr. Gradu has served as an Officer of SAE International and the 2018 President and Chairman of the Board. With over 25 years of experience in the automotive and commercial vehicle industry, Mr. Gradu started his career at Daimler-Benz AG in Stuttgart, Germany, continued later as Vice President of Transmission Powertrain and Driveline at Fiat Chrysler Automobiles and prior to Velodyne led Engineering and Quality at Hyundai Motor America. An SAE Fellow Mr. Gradu has been awarded 56 patents on mechatronic automotive systems, published over 40 technical papers, was honoured with the SAE Edward N. Cole Award for Automotive Engineering Innovation and listed among the 50 most influential Automotive Executives by Motor Trend, being credited with the revival of the rear-wheel-drive automotive platforms through the introduction of the novel and fuel-efficient transmission solutions. He holds a master's degree in mechanical engineering from the Polytechnic Institute of Bucharest, a doctorate in mechanical engineering from the Technical University of Stuttgart, Germany and an executive MBA from the University of California Paul Merage School of Business.
---
Presentation
An integrated, system-level approach for the testing and validation of vehicle and infrastructure-based cooperative driving automation (CDA) technologies
Cooperative driving automation (CDA) aims to improve vehicle and general traffic safety and energy efficiency, and to facilitate road operations. CDA greatly benefits from high levels of vehicle automation and from sophisticated ADAS technologies. Utilizing the extensive analytical and physical testing and simulation capabilities of the Horiba Institute for Mobility and Connectivity at the UCI School of Engineering, this project replicates in a lab environment the sensing and perception algorithms employed on automated vehicles and on the infrastructure of a public road network platform, to facilitate the early assessment of their effectiveness and to define the best strategies for implementation.