Speaker Details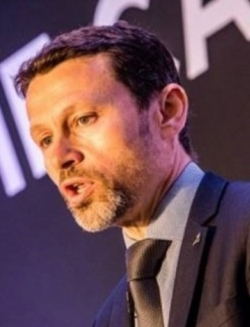 Olivier Sappin
Olivier SAPPIN has 25 years expertise in Transportation and Mobility Industry and 3D Design and End to End Virtual Product / Experience Innovation. Since December 2019, he has been CEO of CATIA at DASSAULT SYSTEMES. He started his career in 1995 in CATIA's Shape Design Industrialization Team. He then joined Automotive Competency Center working with renowned customers like HONDA, FIAT, BMW, CHRYSLER and PSA to help them transform their design practices. In 2011, he was appointed Vice President of the new defined Transportation and Mobility industry, which helps manufacturers and suppliers to develop new mobility experiences for their consumers.
---
Presentation
Deliver safe-by-design automated driving innovations with MBSE & massive simulation
Automated driving complexity has grown exponentially requiring reinventing development and validation methodologies to address end-to-end system of systems architecture and deliver certification driven simulation and Virtual Testing. The capability to model and simulate requirements and architectures in early phase of a vehicle program enables early error detection and convergence on on best trade-off in term for safety and operational design domain (ODD). Massive simulation, generated from multiple scenarios and correlated with real on-track data, eases the validation plan coverage and the optimization of physical road tests. End-to-end change management and traceability accelerate standards and regulations compliance.