Some of the new products on show
Conference Highlight: New lidar scanner from Omnitron Sensors addresses critical bottleneck in lidar technology
ADAS & Autonomous Vehicle Technology Conference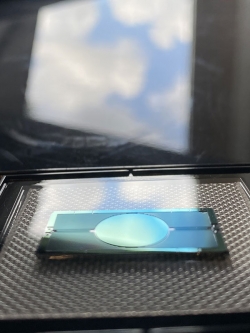 On Day 2 of the conference, Eric Aguilar, co-founder and CEO of Omnitron Sensors, took to the stage for his presentation, 'Fix the optical subsystem, fix lidar', during the session 'Sensor test, development, fusion, calibration and data'.
---
Conference highlight: Adastec provides progress report on autonomous mass transit
ADAS & Autonomous Vehicle Technology Conference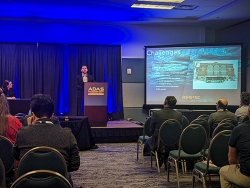 Day 2 at the conference included an update from Cemre Kavvasoglu, product management director, North America at Adastec Corp, on the lessons learned from deploying autonomous bus fleets in the US and Europe, with specific advice and insight into how to deal with adverse weather conditions and testing.
---
Conference highlight: Zoox discusses the future of radar
ADAS & Autonomous Vehicle Technology Conference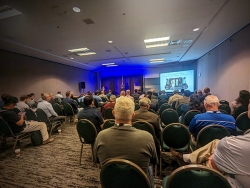 The second day of the conference included a thought-provoking presentation from Arvind Srivastav, a software engineer at Zoox, on the use of radars in autonomous vehicles, in which he shared his thoughts on the current landscape and challenges, and the future.
---
AVSandbox – sensor realistic simulation environment
Claytex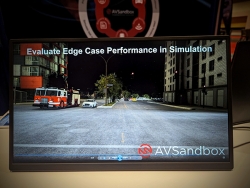 Claytex is in California to showcase its AVSandbox product, which is an ADAS and AV simulation environment. According to managing director Mike Dempsey, "AVSandbox provides a sensor realistic simulation environment to immerse the ADAS feature or AV control system into the virtual world so that our customers can test and develop their systems using simulation."
---
Conference Highlight: Panel discussion – Safety validation for highly automated driving
ADAS & Autonomous Vehicle Technology Conference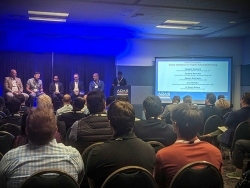 At the end of the conference on Day 1, Foretellix sat down with Bay Area and Silicon Valley technology leaders to discuss the challenges of safety validation of autonomous driving.
---
Foretellix addresses the biggest challenge for achieving safe, large-scale commercial autonomous driving
Foretellix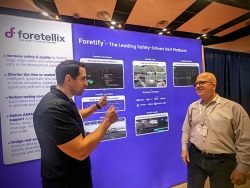 In an interview with ADAS & Autonomous Vehicle International, Gil Amid, VP of marketing at Foretellix, said, "As you heard in the panel discussion yesterday, safety validation is the biggest challenge of autonomous driving today. Why? because autonomous vehicles are super complex and they drive in an unpredictable environment. As a result, AVs need to be tested against millions of different scenarios that could happen in everyday life. That needs to be done effectively and efficiently."
---
3DAI City – AI-generated live maps transforming urban and highway management
Univrses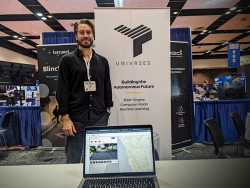 Univrses is showcasing 3DAI City, which the company says introduces a new paradigm in urban and highway management. Due to a growing population and ongoing urbanization, there is increasing demand for more efficient monitoring and maintenance of road networks across the globe. Simply by mounting a camera in the windshield of a moving vehicle, the AI software can generate real-time data on features such as road quality, traffic density, incorrectly parked vehicles and the condition of road assets.
---
Collaboration by standardization
ASAM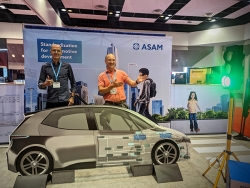 In an interview during the show, Benjamin Engel, CTO at ASAM, said, "We are setting standards for AD and ADAS. Our focus is to promote collaboration within the automotive industry. We think standardization is essential for enabling the development of safe, autonomous driving. High levels of automated driving would not be possible without standards. No company can do it alone."
---
Advanced perception sensor simulation and validation for autonomous vehicles
Claytex & rFpro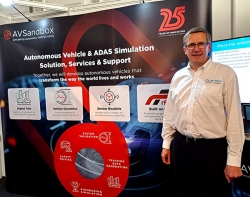 The Centre for Connected and Autonomous Vehicles (CCAV) has awarded a £2m grant to the Sim4CAMSens project, which will be led by Claytex and a group of industry-leading partners as part of the Commercialising CAM Supply Chain Competition.
---
Methodica Technologies' customizable, one-stop solution for ADAS and AV development
Methodica Technologies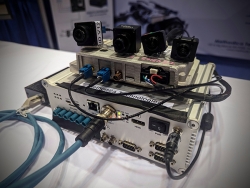 Methodica Technologies is showcasing Peekaboo (P-Series), its latest addition to data-driven development in autonomous, ADAS and system advancement.
---
Sensor fusion for dynamic road weather information
Klimator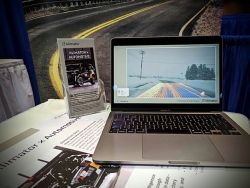 Klimator is showing visitors is its AHEAD onboard sensor fusion solution. "Our cloud-based solution provides warnings about adverse driving conditions (incidents), dynamic hazard warnings and road weather information," said Viktoria Bogren, head of the company's automotive business area.
---
Ground-penetrating radar technology for precise localization
GPR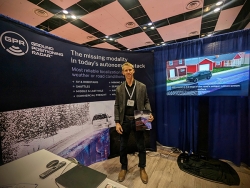 GPR is showcasing its Ground Positioning Radar at this year's expo. The system maps the unique, character-rich subterranean environment, providing insights into subsurface structures and uncovering hidden elements like road infrastructure, buried utilities and soil characteristics.
---
SBG Systems' PTP for synchronized sensors
SBG Systems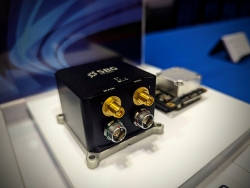 SBG Systems is exhibiting its Ellipse series, Ekinox Micro and Qinertia PPK software for mapping at the expo.
---
Multi-sensor labeling platform with seamless, calibrated sequencing
Kognic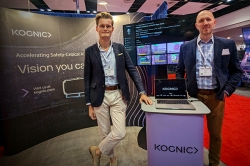 Kognic is providing hands-on demonstrations of its comprehensive platform for managing data sets used to enable perception systems. According to Przemek Sienkiewicz, the company's chief revenue officer, the platform is "notably powering proven ADAS/AD products for our T1/T2 customers and OEM partners".
---
Spirent displays its next-gen PNT testing
Spirent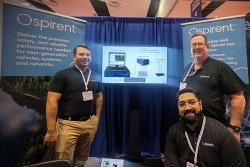 Spirent is showcasing SimXona on its booth. Developed in partnership with Xona Space Systems, it enables certified, deterministic testing using the next generation of low Earth orbit (LEO) positioning, navigation and timing (PNT) signals.
---
Robust and scalable generation of unknown-unsafe scenarios
Siemens Industry Software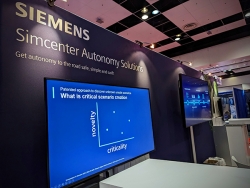 Siemens Industry Software is at this year's expo to highlight its Simcenter autonomy solutions, which it says allow customers to bring autonomy to the road safely, simply and swiftly.
---
Waymo shares how to measure surprising road behavior
ADAS & Autonomous Vehicle Technology Conference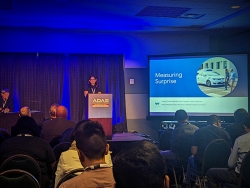 Another highlight from the conference (rates apply) was a presentation from Azadeh Dinparastdjadid, a senior research scientist on the Safety Research and Best Practices team at Waymo, discussing how to measure surprising road user behavior.
---
Zenseact tackles the million miles problem for ADAS
ADAS & Autonomous Vehicle Technology Conference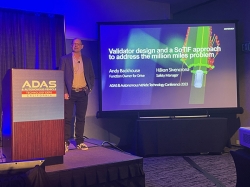 The first morning of the conference included a fascinating presentation from Zenseact's chief safety officer Håkan Sivencrona and the company's collision-avoidance threat-assessment technical specialist Andrew Backhouse on how validator design and SOTIF processes can help address the million miles problem.
---
AV performance validation and verification services - unlock the full potential of AVs
DDD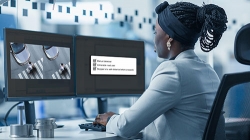 DDD is dedicated to ensuring the safety and performance of autonomous vehicles (AVs) through the company's specialized data operations support services. With its extensive experience in classifying, validating, and verifying multimodal data, DDD provides comprehensive support to AV performance, validation, and verification teams.
---
Next-gen ADAS safety system under development
Terranet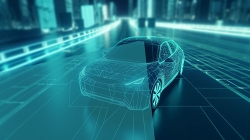 In a world where cities grow bigger and urban traffic becomes denser and more complicated, we have the power to make a difference. With the use of cutting-edge technology, we can protect the most vulnerable road users. We believe that a complementary set of intelligent solutions in vehicles will transform urban road safety and ensure a safer future for all.
---
3DAI City - AI-generated live maps transforming urban and highway management
Univrses/Business Sweden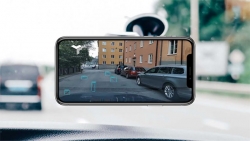 3DAI City is addressing the need for actionable insights in urban environments and highways to improve the cities of today and tomorrow. The solution is currently being deployed in a growing number of cities around the world.
---
Analytical edge AI
Stream Analyze

Stream Analyze will present its powerful edge analytics platform. As vehicles become increasingly connected and data-rich, Stream Analyze enables manufacturers and Tier 1s to monetize this wealth of data directly in the vehicle, maximizing operational efficiency and unlocking new revenue streams.
---
EMI shielding film
Tatsuta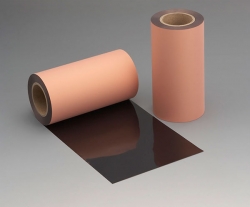 Tatsuta will be at the expo to explain how its EMI shielding film, designed for flexible printed circuits (FPC), has achieved a remarkable reduction in thickness as a result of the company's advanced coating technology.
---
Automotive dynamic motion analyzer
Genesys

Genesys will present three new features for its automotive dynamic motion analyzer (ADMA), focused on ease of use and increased productivity via instant, hardware-free activation and options via a license key. ADMA, designed for automotive vehicle testing, features a highly precise inertial measurement unit (IMU) with DGNSS (differential global navigation satellite system) for 3D acceleration, speed, position, pitch, roll, course and side-slip measurements.
---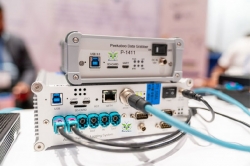 The Peekaboo (P-Series) datalogger is Methodica Technologies' in-built one-stop solution for developing and testing ADAS and autonomous vehicles. Peekaboo can log the resources and network components of self-driving vehicles, including camera, CAN, automotive ethernet, FlexRay, lidar and radar used for ADAS and autonomous vehicles, both for measurement and the hardware-in-the-loop (HIL) system.
---
High-performance GNSS-aided INS
SBG Systems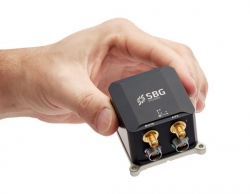 SBG Systems will display the Ekinox Micro, a high-performance GNSS-aided inertial navigation system (INS) offering a surprisingly low SWaP for the level of performance it delivers. The rugged unit integrates a full-GNSS RTK-capable receiver fused with tactical MEMS inertial sensors, providing superior accuracy and performance under challenging conditions and exposure to high temperatures or vibrations.
---
Next-gen PNT testing
Spirent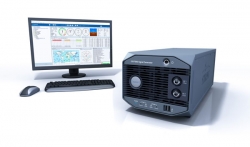 Developed in partnership with Xona Space Systems, SimXona from Spirent enables certified, deterministic testing using the next generation of low Earth orbit (LEO) positioning, navigation and timing (PNT) signals.
---
Multisensor fusion inside the data set
Kognic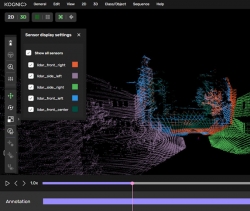 Kognic will be in Santa Clara to explain how it has eased the workload of those tasked with labeling data captured from sensors, with current vehicles equipped with multiple lidar sensors, cameras and radar. All these sensors see the world at different times, with different types of data capture, different resolutions, etc. Product teams working on perception systems tend to give one label for each sensor, for each object, to train their data set models.
---
Child pedestrian ADAS target
DRI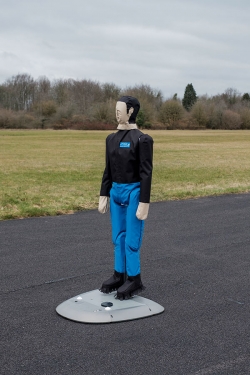 This year DRI will preview its new child pedestrian target, the latest addition to its ADAS target range. It features the same industry-leading design as the company's Soft Pedestrian 360 adult counterpart in a child form factor.
---
Sensor data calibration
Deepen AI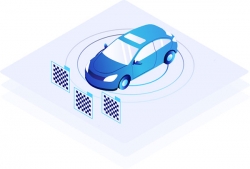 Lidar semantic segmentation and sensor calibration are key factors in accurate perception and understanding of the surrounding environment, enabling advanced applications for autonomous vehicles, manufacturing, robotics and more.
---
Detective and predictive road weather data
Klimator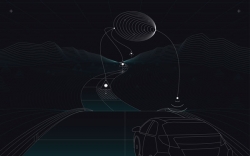 When bridging the gap between nature and innovation, road weather intelligence is a critical component that connects the surrounding environment to the vehicle. By understanding the interplay between small-scale microclimate and the surrounding topography, Klimator enables local expert road weather forecasts on a global level, creating safer roads.
---
Compact data logging solution
ViGEM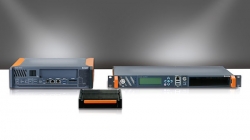 ViGEM, which provides data logging systems for efficient validation of ADAS, OTA and AD, will present its brand-new CCA 7010 compact solution consisting of data logger, removable storage and copy station, at this year's show in Santa Clara.
---
LaunchPad Spin VRU platform
AB Dynamics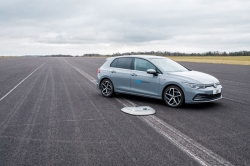 AB Dynamics will showcase a new vulnerable road user (VRU) target platform, the LaunchPad Spin. This latest innovation is highly maneuverable, allowing it to replicate challenging urban test scenarios with dynamic movements to cover increasingly complex and realistic scenarios.

---
Deterministic middleware solution
ETAS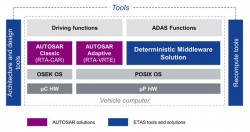 ETAS will demonstrate its middleware solution that delivers the necessary reproducible behavior on high-performance microprocessor-based systems to ensure any simulation corresponds exactly to the original execution. This supports efficient and repeatable collection of validation evidence for safety and correctness.
---
Ground-positioning radar
GPR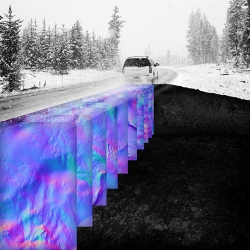 Advanced driver assistance systems must operate accurately and reliably to build trust before consumers will accept AVs, and precise localization is a big part of that. With GPR's ground-positioning radar, auto makers and industrial partners are enhancing vehicles with more reliable and accurate ADAS features to better safeguard the automated driving experience.
---
Lidar target simulator
Keysight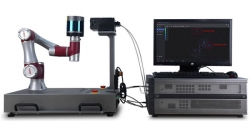 Keysight will display its new compact lidar target simulator (LTS) that it says transforms lidar sensor testing in the automotive industry. A key sensor for autonomous driving, lidar is now more accessible due to advancements made in solid-state lidar sensors, but traditional testing methods using physical target boards pose challenges requiring large floor space and time-consuming manual tests. This is where simulation comes in.
---
Virtual vehicle dynamics
dSPACE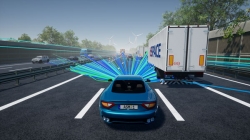 dSPACE will showcase a new cloud software solution for autonomous driving simulation and validation. Simphera accelerates the deployment of autonomous driving innovations by providing users with easy access to powerful features for simulating vehicle dynamics and traffic.
---
Precise and robust localisation
OxTS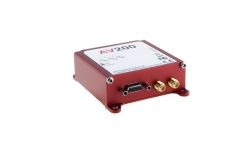 OxTS will showcase its AV200 INS for autonomous vehicles that require precise and robust localisation for their autonomous systems, at this year's show. The AV200 is a state-of-the-art inertial navigation system combining dual GNSS RTK receivers and a compact MEMS Inertial Measurement Unit (IMU) to deliver centimetre-level position and motion data in real time.
---
Volatile, remote, and unforgiving edge environments demand robust technologies, flawless operation, and reliable security. Expo visitors will be able to check out Crystal Group's range of custom-engineered, intelligent, rugged computer solutions designed to perform in the most remote and extreme conditions when safety, accuracy, and efficiency are paramount.
---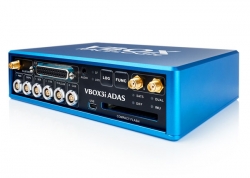 With growing demand for higher levels of accuracy and the ability to test in a range of environments, VBOX Automotive will present its latest test and validation solutions designed to make ADAS testing easier and meet the most recent regulatory test protocols.
---
Critical scenario creation
Siemens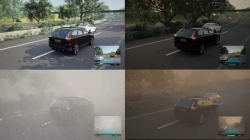 The SOTIF standard requires suppliers to reduce the number of unknown-unsafe scenarios by applying sufficient exploration and testing. The challenge is to have an objective, robust and scalable process to generate as many of these scenarios as possible.
---
RDMA-based ADAS replay and HIL test
NI
NI will present its unified solution for an ADAS replay and HIL system built in with RDMA technology, to accelerate the validation of ADAS ECUs for software-designed vehicles.
---
Turnkey solution for ADAS validation
Dewesoft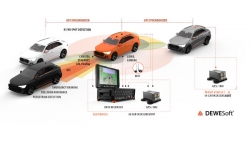 The desire for full vehicle autonomy and higher safety standards has increased the complexity of onboard computing and real-time decision making, which, in turn, demands the next level of test and measurement tools. By working closely with the OEM suppliers, Dewesoft has designed data recorders and validation solutions precisely for such performance evaluation tasks.
---
HIL video logger
Xylon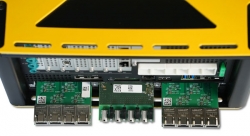 Xylon's dataloggers are known for their abundance of native automotive interfaces that enable direct sensor connections without external converter boxes. The company will showcase the latest upgrade of its popular third-generation logiRECORDER automotive HIL video logger, which is aimed at performance and cost-optimized automotive developments, reducing the types and numbers of equipment in the test vehicle's trunk even further.
---