New products presented at the 2022 show
From October 25-27, 2022, the Suburban Collection Showplace in Novi, Michigan, provided the platform for the Autonomous Vehicle Technologies Zone within Automotive Testing Expo.
For those developing robotaxis, off-highway vehicles, last-mile delivery vehicles, autonomous trucks, social mobility and autonomous shuttles, the Autonomous Vehicle Technologies Zone displayed test and next-generation enabling technologies and solutions. Here are some of the highlights: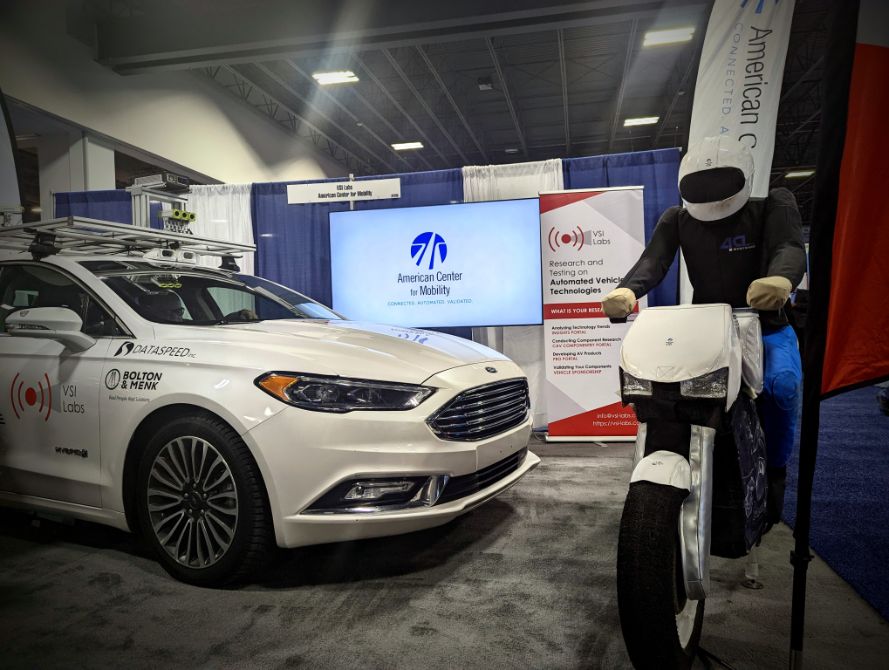 The American Center for Mobility (ACM) shared its capabilities and development plans for testing and validating CAV transportation systems, revealing more about Michigan's first modular hydrogen production system. "Today, with its large-scale configurable road infrastructure, state-of-the-art connectivity, data management and R&D support, the American Center for Mobility is the premier center for testing and validation of CAV transportation systems," said Sushanta Das, ACM's technical director, live at the show. "We have taken a big step ahead toward EV fast charging, AV testing, cybersecurity and hydrogen fuel cell to meet our clients' needs for tomorrow."
ACM also revealed that earlier this month, on October 13, Delta demonstrated a 400kW solid-state transformer-based extreme fast EV charger to its partners, GM, DTE Energy, NextEnergy, Virginia Tech's Center for Power Electronics Systems, the US Department of Energy and the American Center for Mobility itself.
Kevin Kelly, ACM's director of sales, added, "ACM collaborates with key partners, and for this year's show VSI Labs and ACM decided to exhibit together due to our existing testing relationship, which has been going on over the past few years. ACM and VSI Labs are always looking to gain additional partners and collaborators, and Automotive Testing Expo is the perfect stage to research and extend our mutual innovations to other potential technology-advanced companies."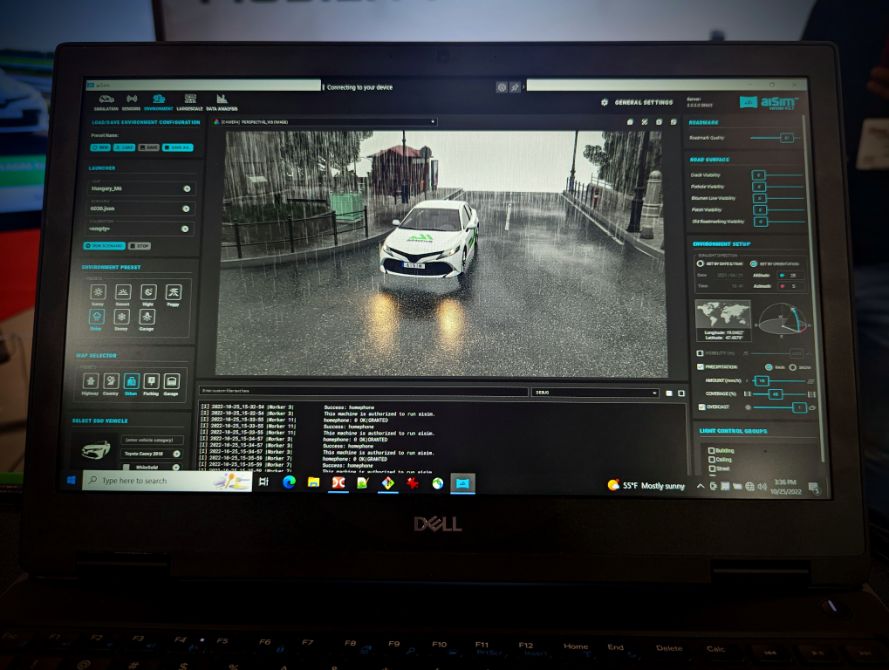 Meanwhile, aiMotive demonstrated the latest generation of aiSim, the company's cloud-based testing and validation tool and the world's first ISO 26262-certified simulator.
According to Bence Boda, the company's marketing and communications manager, safety is the most critical ADAS and AD software development principle. Speed and cost of development are also crucial driving forces. "One needs an automotive-grade toolchain to address all these aspects of ADAS and AD software development," explained Bence. "With ISO 26262, such toolchain providers are certified to comply with the automotive development and testing processes. More and more stakeholders in the automotive industry recognize the value of the simulation to develop, test and validate ADAS and AD systems. Moreover, the regulation is also going in the direction of virtual validation. Consequently, simulation is increasingly becoming an integral part of the AV industry."
Niall Berkery, aiMotive's SVP for North America, added, "We're exhibiting in the Autonomous Vehicle Technologies Zone as the overall audience on the testing, validation and proving side is very applicable for us."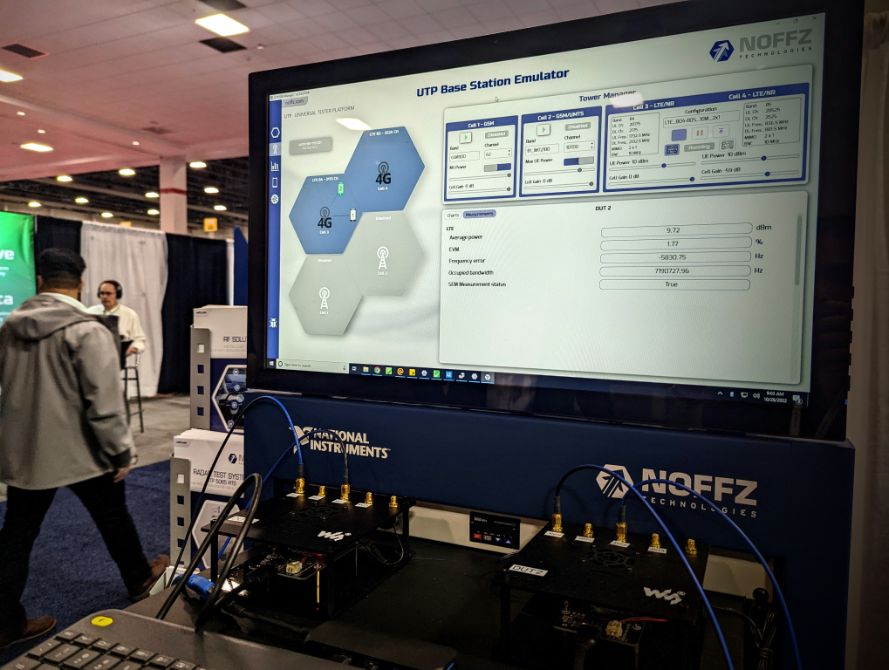 Opposite aiMotive, Noffz Technologies showed off its test system to validate the wireless functionality of connected car components. The UTP 7064 test system boasted key features including a multi-DUT (up to eight TCUs [telematics control units] in parallel) cellular (from 2G up to 5G) signaling tester; single rack for lifecycle monitoring and RF parametric measurements; and single API for making phone calls and detailed signal analysis. The system has been designed for test engineers rather than 3GPP experts.
"It is important for OEMs to test connected car components as it enables a significantly simplified process in validation by merging lifecycle monitoring and RF parametric measurement stations. It reduces validation time and capex, and there is no need for special test firmware – devices are characterized while running the end-user software," explained Vanessa Blumenstein, technical international marketing manager and team leader. "Noffz Technologies chose the Autonomous Vehicle Technologies Zone to showcase its UTP 7064 test system as the company believes that it is a unique test solution that helps connected car vendors reduce their costs and time-to-market. We are looking to meet engineers from validation, environmental, EMC labs or any telecommunications engineer in need of a 5G cell."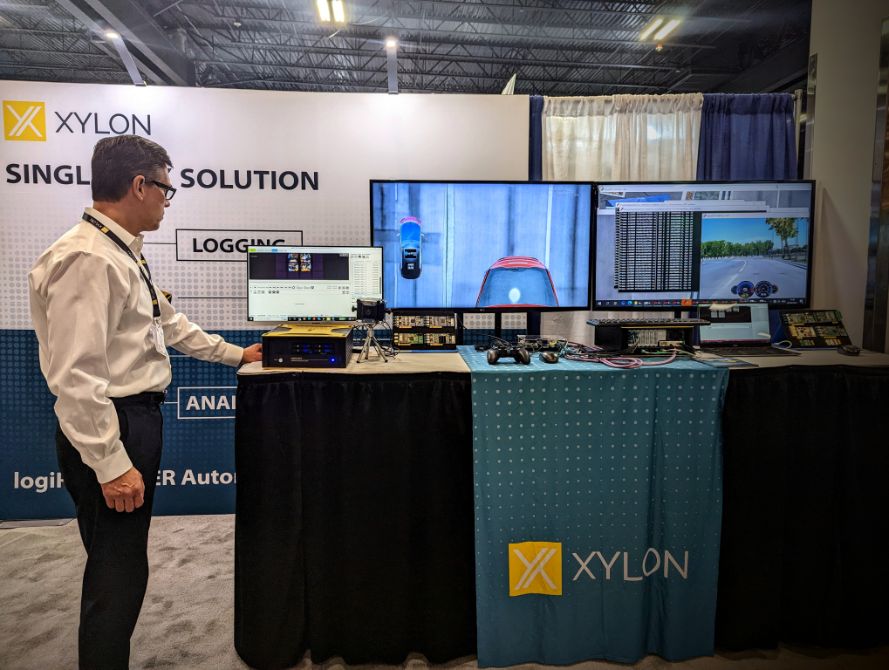 Also in the zone, electronics specialist Xylon demonstrated its complete demo HIL system, which converts sensory data generated by a software simulator into real automotive stimuli for the attached parking assistance ADAS ECU. To develop the demo and explore different methods of connecting hardware ECUs to simulation software, Xylon has teamed up with rFpro, an expert in driving simulation software and also an exhibitor at the expo. According to Xylon's technical marketing director, Gordan Galic, the demo setup consists of the PC that runs rFpro's advanced simulator, Xylon's logiRECORDER automotive HIL video logger in the smart I/O mode and Xylon's Surround View ECU.
Aside from the dedicated zone, a further 100+ ADAS/AV exhibitors within the Automotive Testing Expo hall showcased relevant products and services.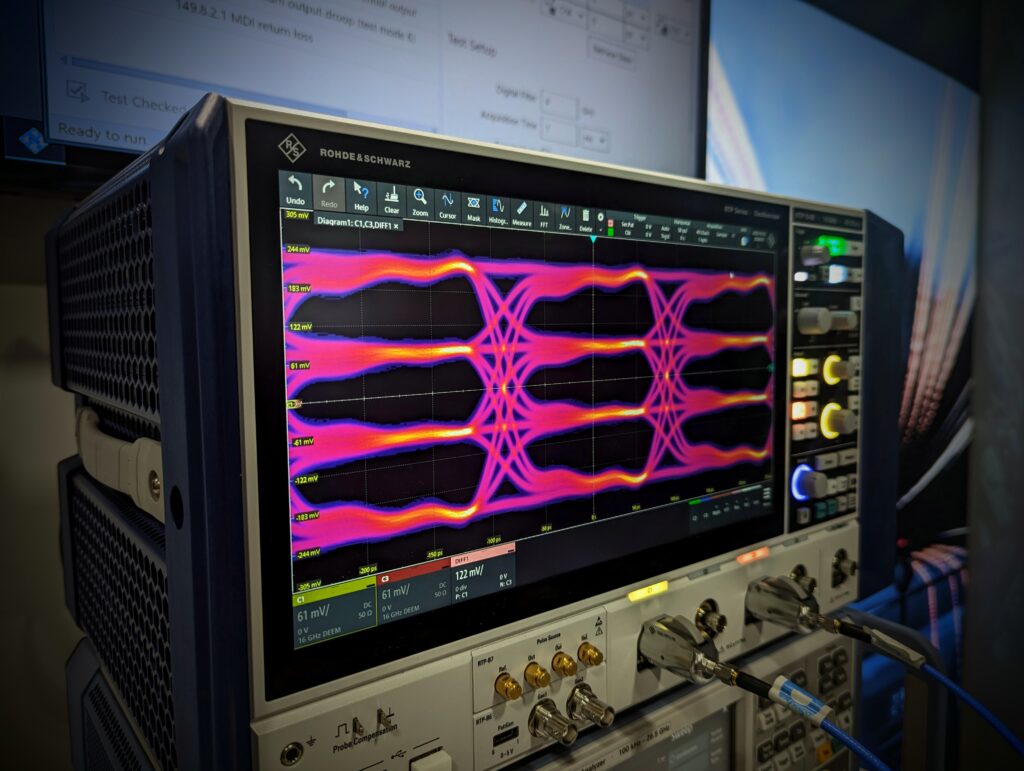 Highlights included several applications from Rohde & Schwarz, encompassing wireless connectivity, radar, UWB, EMC/EMI testing and CV2X. According to Ram Mirwani, business development manager for automotive at R&S, the company provides automotive manufacturers, components suppliers and test houses with innovative, cutting-edge solutions that bring realistic test scenarios from the road to the lab and the production line.
The new R&S AREG800A Automotive Radar Echo Generator was on display together with the R&S QAT100 advanced antenna array. The system highlights how to test automotive radar sensors to generate realistic driving scenarios for HIL and VIL tests.
The company's new automotive Ethernet compliance testing solution using R&S's new RTPB oscilloscope was also demonstrated. "In our live demo, we are analyzing automotive Ethernet via a live eye diagram, not a static snapshot, and this allows you to see real-time interference on your signal," revealed Ram. "The user interface is very important here as an interactive tool, showing you what's really going on in real time for debugging. Our live eye diagram is unique and not offered by others."
He added, "We wanted to exhibit here because it is a nucleus for automotive efforts. We want to participate and engage with the industry based here with our holistic testing message that covers a range of applications performed on our platform – compliance, performance and EMC testing, and HIL testing among others. We have many levels of test capability that we want to showcase to visitors."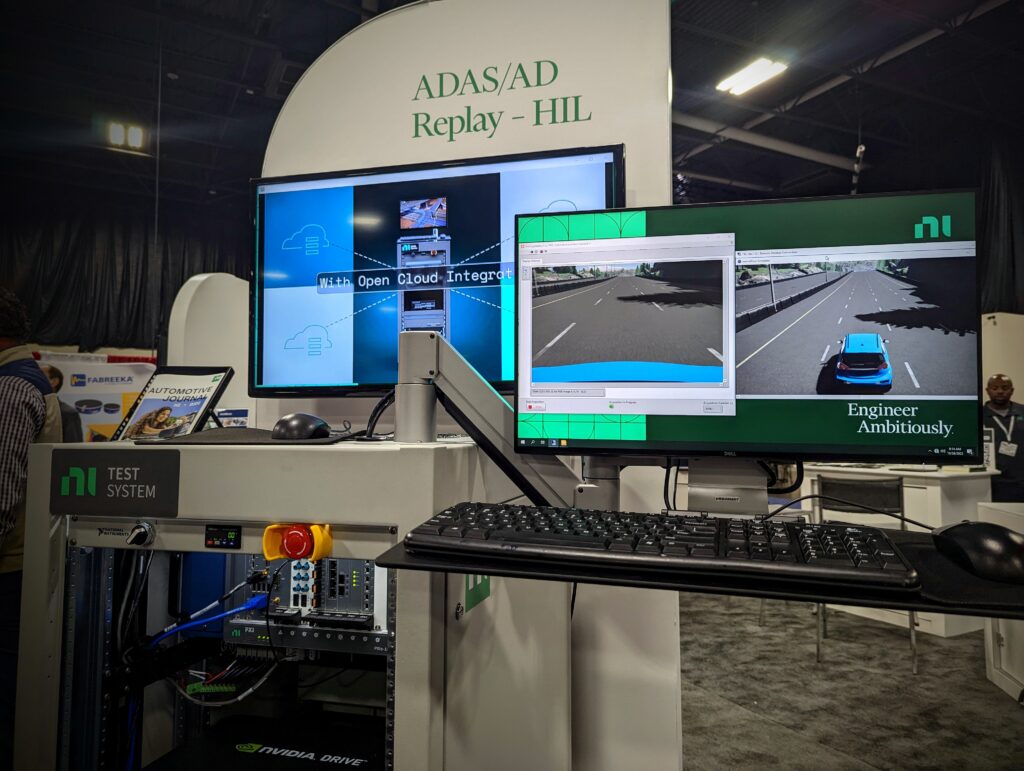 NI used Automotive Testing Expo to announce the release of two new systems that will test various vehicle technologies to ensure that safe and reliable autonomous vehicles reach the market.
According to Brenda Vargas, senior solutions manager at NI, auto makers know that 5G deployment depends heavily on standard definition and refining, primarily by 3GPP. NI's release of 5G NR-V2X with SEA, a German product and system integration company providing test and measurement systems, can better support the testing of autonomous vehicle technologies.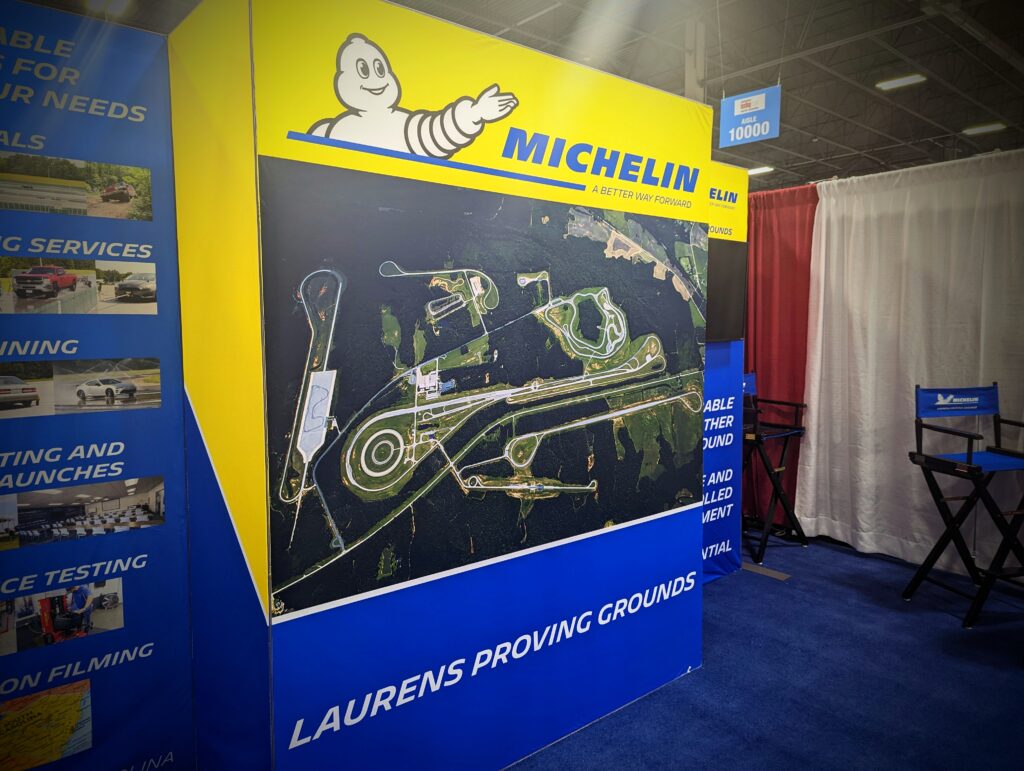 Michelin Laurens Proving Grounds came to Novi to reveal that it has completed several infrastructure and sustainability initiatives that will enable customers to test a wide range of vehicles at any time of the year.
Recently completed projects include the installation of multiple Level 3 DC fast chargers, an upgraded fire system allowing indoor electric vehicle storage for optimal confidentiality and a completely renovated main pumphouse that has achieved a 75% reduction in water usage. The facility has also repainted lines around the majority of the main tracks, improving conditions for autonomous testing.
According to Michelle Phillips, coordinator of engineering and services at the proving grounds, Automotive Testing Expo offers an ideal avenue for proving grounds to communicate their improvements as it reaches the vast majority of OEMs that are the key proving ground customers.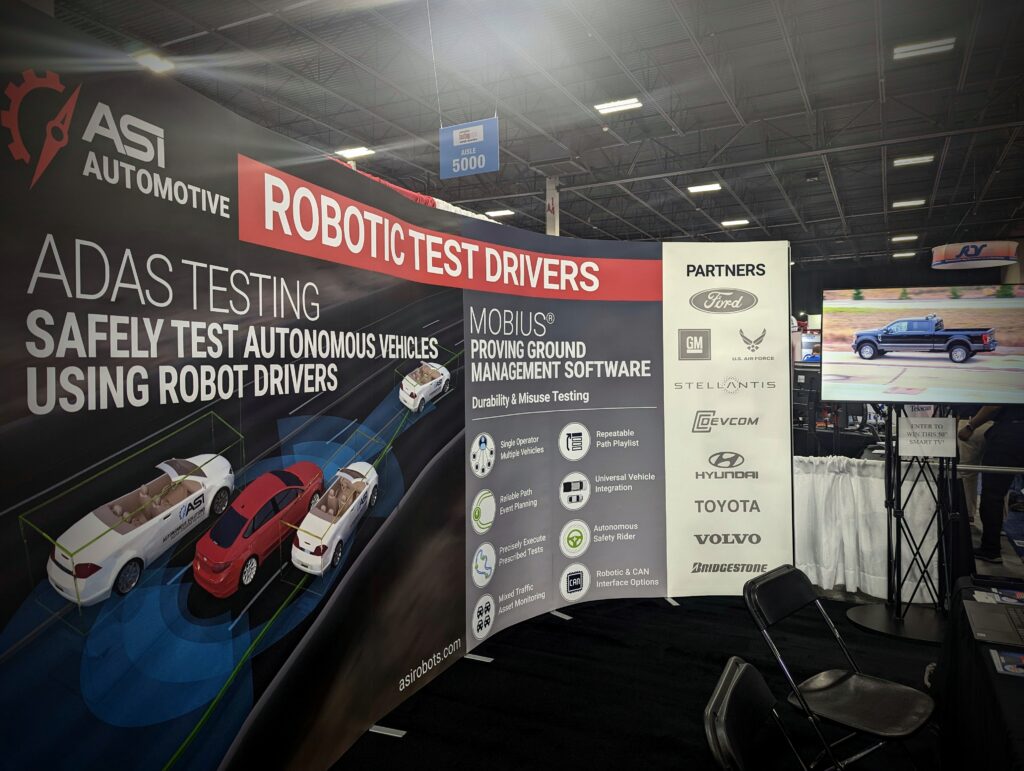 On the Technology Presentation Stage, visitors heard from more than 40 speakers, including Jed Judd, automotive product manager at Autonomous Solutions Inc (ASI), who revealed how, alongside a world-leading OEM, ASI has developed autonomous technology capable of choreographed testing of ADAS/AV systems, known as swarming. He explained that this robotic system is already giving value in durability, misuse, impact, noise and vibration, ADA/AV systems, and other use cases.
According to Judd, ASI has attended Automotive Testing Expo in Novi, Michigan for several years and finds it to be a great place to showcase the advantages of using robotic test drivers on proving grounds for OEMs and tier suppliers.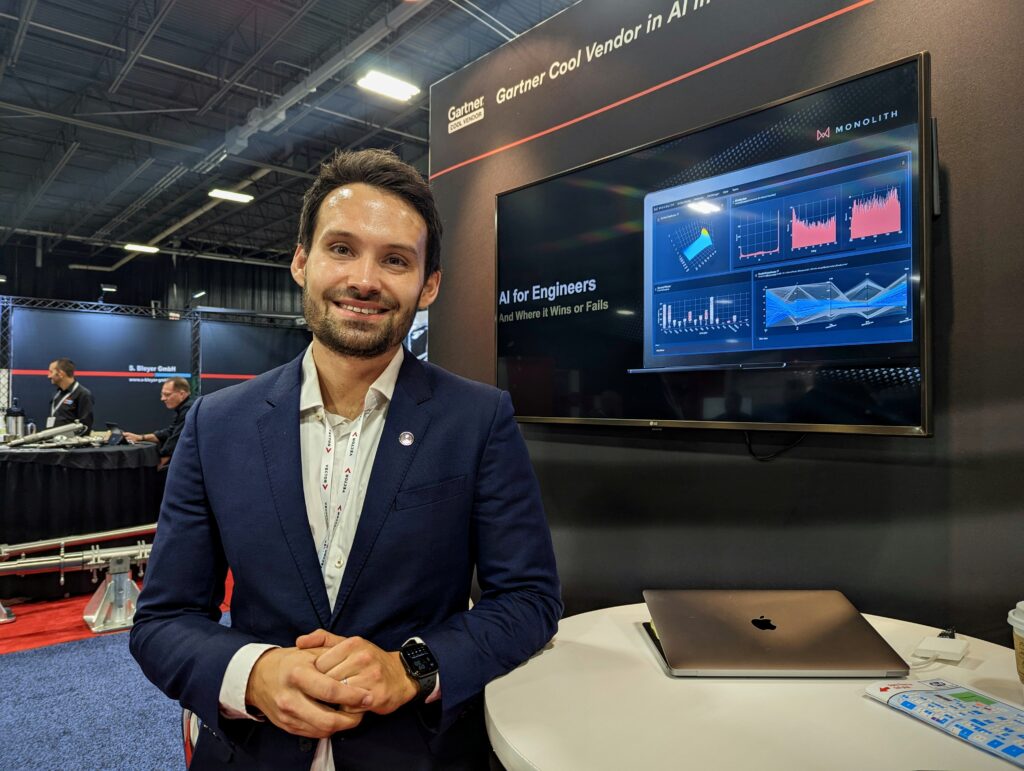 Also on the Technology Presentation Stage, Dr Richard Ahlfeld, CEO at Monolith, gave a presentation on how BMW uses AI to accelerate crash tests. He revealed how, using Monolith's no-code AI crash testing software, BMW Group engineers built self-learning models using existing crash data and were able to accurately predict the force on the tibia for a range of different crash types without doing physical crashes. This game-changing approach will enable engineers to reduce physical tests and cut product development time by 50%.
Ahlfeld explained, "We're in Detroit to share the results of our work with BMW and share ideas on the future of engineering – namely the role of AI. We're looking forward to expanding our network and further understanding the needs of engineers. We had a great experience at Automotive Testing Expo Stuttgart so look forward to more of the same here."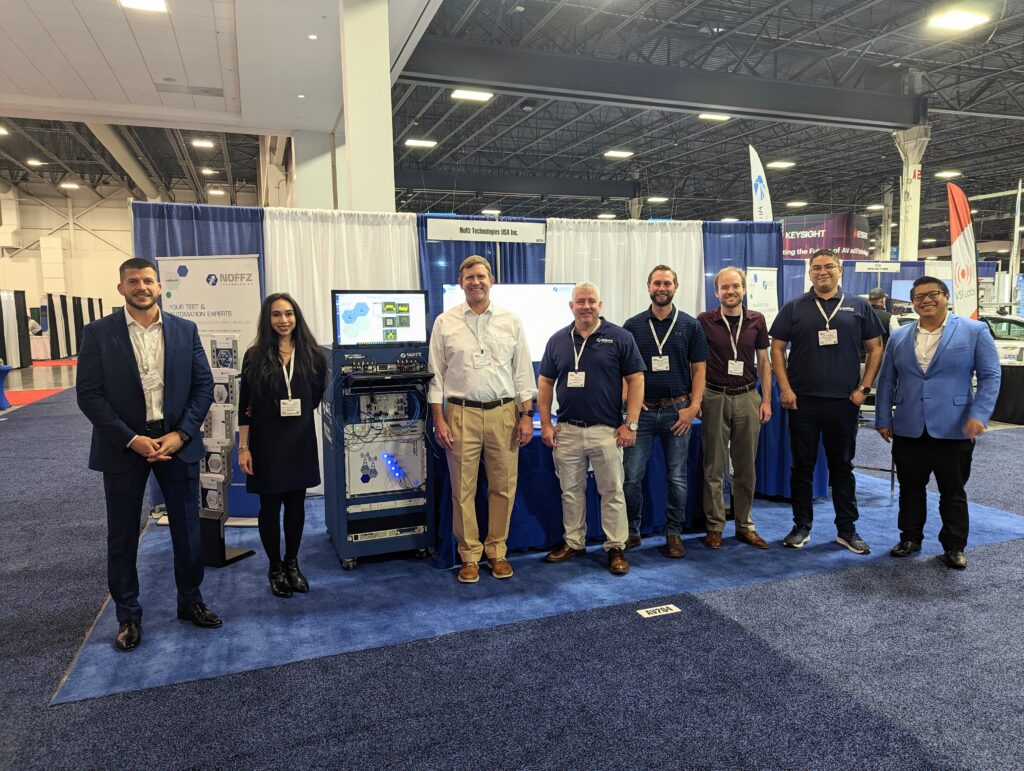 Automotive Testing Expo's Charlotte Iggulden (second left) with representatives from Noffz Technologies. Charlotte said about the show, "It was a pleasure to meet the innovators helping to drive the current and future trends"
Following a successful show, Automotive Testing Expo will return next year on October 24, 25 and 26 – don't miss out, save the dates today.