Live news from the show
DAY: 3 Tailored digital twins in target locations for ADAS and AV testing
MORAI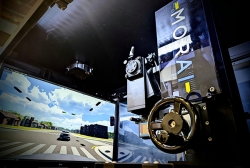 In Stuttgart, MORAI is displaying MORAI SIM: Drive, its innovative digital twin simulation platform that targets specific regions. The South Korean startup is already making an impact within the ADAS and AV sector with its simulation solution, tailored to 'target locations'. According to MORAI, feedback from stakeholders and customers has been positive and is what draws them to the company.
---
Day 3: High-resolution digital lidar for superior 3D perception in all weather conditions
Ouster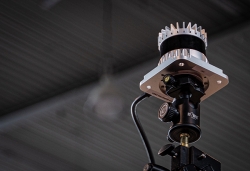 At this year's ADAS & Autonomous Vehicle Technology Expo in Stuttgart, Ouster is showcasing its newest OS sensor hardware release, Rev 06. Powered by the company's new L2X chip and equipped with the latest firmware that offers full dual-return capabilities and doubles the signal processing power of all its OS sensors, Rev 06 provides superior 3D perception through fog, rain, dust and snow.
---
DAY 2: MicroVision unveils new lidar product line to enable high-speed highway safety features
MicroVision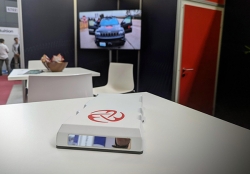 MicroVision is in Stuttgart to introduce its new generation of sensors, developed with an OEM-friendly design to enable high-speed highway safety features. The MAVIN DR is a dynamic-view lidar system that will enable new ADAS safety features, meeting the need to see further with greater clarity and respond more quickly to emerging situations.
---
DAY 2: Solid-state lidar for accurate near-field perception and more
Velodyne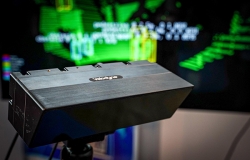 Velodyne Lidar EMEA is presenting its latest hardware and software solutions at the expo. Its Velarray M1600 solid-state sensor has been designed for autonomous applications in public, commercial and industrial environments and is optimized for accurate near-field detection for autonomous platforms.
---
DAY 2: Advanced triple-band antenna and smart GNSS signal splitter provide RTK and PPP accuracy
Tallysman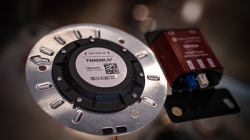 Tallysman is at ADAS & Autonomous Vehicle Technology Expo in Stuttgart to demonstrate its RTK (real-time kinematics) and PPP (precise point positioning) accurate antennas, featuring a tight radio frequency phase center variation (L1/L2/L5, etc), strong multipath mitigation, wide bandwidth to support all constellations and their spread spectrum signals, as well as deep filtering to mitigate near band signals.
---
DAY 2: Full solid-state lidar modules boast next-level sensing
Marelli Automotive Lighting
Marelli Automotive Lighting and XenomatiX have combined their expertise in optics and electronics to create a new line-up of lidar modules for autonomous vehicles, which they are presenting at the expo.
---
DAY 2: Open-architecture solution for rapid prototyping and AD development
Klas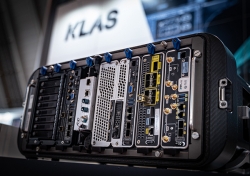 Klas has announced at the expo that its RAVEN (Ruggedized Autonomous Vehicle Network) open-architecture solution for rapid prototyping and development of ADS and ADAS now supports logging from GMSL2 cameras.
---
DAY 2: Simplified ADAS testing with model-based, virtual development
Elektrobit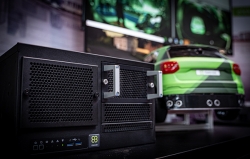 Elektrobit is in Stuttgart to share how it can help simplify the development process in ADAS testing with model-based and virtualized development. It aims to help companies develop profitable embedded software programs that will validate test drive scenes and avoid expensive simulation.
---
DAY 2: AVL showcases its ADAS/AD portfolio, validation toolchain and proving ground
AVL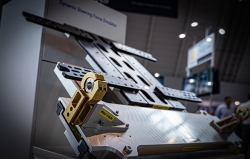 AVL is exhibiting its complete ADAS/AD portfolio, from ADAS/AD engineering services to ground truth data generation, data management and analytics, scenario-based test preparation and virtual testing solutions with its steering force emulator.
---
DAY 2: Automated driving full software stack with reusable, model-space-based perception
aiMotive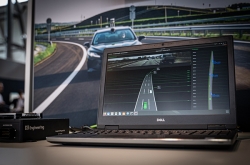 aiMotive is showcasing the latest generation of its automated driving full software stack, aiDrive 3.0, featuring in-house, model-space-based perception, which the company says is the foundation for higher-level automation but achieves much more than that.
---
DAY 1: Make sense of massive amounts of automated driving data with Simcenter Scaptor
Siemens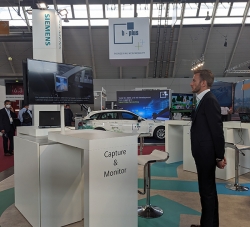 Siemens is in Stuttgart to display its Simcenter Scaptor (sensor capture), which provides high-speed in-vehicle recording with a scalable and flexible hardware platform to capture, synchronize and store vast amounts of raw data under rugged test conditions.
---
DAY 1: 3D millimeter-wave radar simulator for autonomous driving
OTSL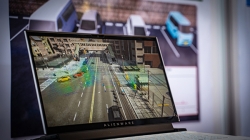 OTSL is in Stuttgart to unveil its new 3D real-time millimeter-wave radar simulator for autonomous driving, the AMMWR2 (Advanced Millimeter Wave Radar Simulator 2).
---
DAY 1: Cloud platform enables large-scale regression testing and more
Cognata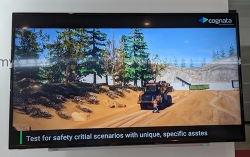 Cognata is displaying a new Cloud platform that can manage data from simulations and real-world driving, as well as provide a full ADAS lifecycle management platform, on the first day of ADAS & Autonomous Vehicle Technology Expo, in Stuttgart, Germany.
---
DAY 1: Synthetic sensor data platform provides high-fidelity training data in real time
Applied Intuition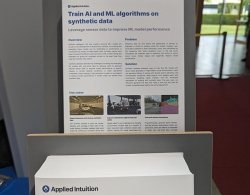 Applied Intuition is presenting its synthetic sensor data platform that reduces the complexity and cost of data collection and manual labeling on Day 1 in Stuttgart.
---
DAY 1: Deep learning AI inspection to speed up data curation and labeling
AIMMO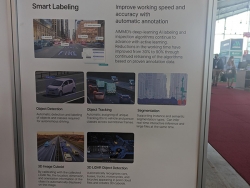 AIMMO is in Stuttgart to launch its Smart Labeling technology to the European market, claiming it can significantly reduce the time between data acquisition and availability of high-quality training data, enabling new scenarios, locations and edge cases to be trained faster.
---
DAY 1: Highly immersive, compact aVDS-S from AB Dynamics accelerates ADAS development
AB Dynamics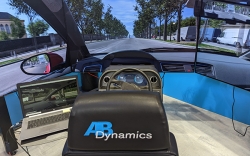 AB Dynamics presented its compact aVDS static driving simulator (aVDS-S) on Day 1 of the show. It features an active brake pedal and steering force feedback system for enhanced immersion, meaning it can be used for more advanced applications than traditional static simulators, such as regenerative braking control strategies and power steering calibration.
---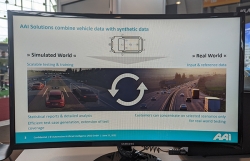 On the opening day of ADAS & Autonomous Vehicle Technology Expo in Stuttgart, Automotive Artificial Intelligence (AAI) is providing live demonstrations of its knowledge and data-driven approaches to its simulation platform, ReplicaR of the World, which combines vehicle data with synthetic data.
---
Live images from the show
About The Expo and Conference
Taking place alongside Automotive Testing Expo… More than 150 ADAS and autonomous tech exhibitors
ADAS & Autonomous Vehicle Technology Expo 2023 Stuttgart returns to Stuttgart, Germany – Europe's most influential hub for automotive innovation, research and development – on June 13, 14, 15, 2023!
Exhibitors will showcase the latest technologies to enable and accelerate end-to-end autonomous and ADAS applications, including testing tools, simulation, software, sensing and AI.
You can also benefit by networking in one dedicated meeting place with international delegates and speakers from the adjoining Automotive Testing Expo Europe.
Save the dates – book your booth today!
Product Areas
ADAS & Autonomous Vehicle Technology Expo 2023 Stuttgart STUTTGART WILL SHOWCASE INTERNATIONAL SUPPLIERS OF PRODUCTS AND SERVICES INCLUDING:
AV/ADAS software
Artificial intelligence
Testing tools
Simulation platforms
Validation tools
AV/ADAS hardware
Componentry
Sensors/systems
Imaging applications
Lidar
Radar
Cameras
Robotics
Chips
Processing
HD mapping and navigation
Localization
Wireless communications – 5G
V2V - V2X
Investment VC
Engineering services and consulting
Test tracks and facilities
Concepts and design
ACES
OPENING TIMES
Opening times
Tuesday, June 13
09:00hrs – 17:00hrs
Wednesday, June 14
09:00hrs – 17:00hrs
Thursday, June 15
09:00hrs – 15:00hrs
Gallery
Check our gallery from the recent events
Book a booth
For further details, please contact:
Event Director
Chris Richardson
Conference
Developing an autonomous vehicle?
This is the conference you should attend!
---
Two conference tracks. Expert speakers on the latest AV test and development technologies and practices, PLUS expert speakers on AV AI, software and sensor fusion.
Hear from around 80 expert speakers, who will showcase the essential building blocks and systems, including AI and deep learning, virtual environments, verification and validation of autonomous systems, and testing and development tools and technologies.
Track 1
The Autonomous Vehicle Test & Development conference track was launched in 2015 and brings together almost 400 of the world's leading engineers in the field of autonomous vehicle research, testing, validation and development. Speakers will present on: testing in synthetic environments, cyber threat testing, V2V and V2X testing, embedded software testing, human factors and HMI testing, validation and verification, safety standards and legislation, VeHIL, reliability testing of software and hardware systems, collaboration in testing & development, and much more.
Track 2
The Autonomous Vehicle AI, Software and Sensor Fusion conference track is specifically dedicated to addressing the challenges and opportunities of developing AI and software platforms for autonomous and self-driving vehicles. Experts will present their research on deep learning and how to validate algorithms as well as explain their take on AI/programming best practice, fusion challenges, plus how to understand, utilize and manage big data.
Speakers
Check here for updates
Press Center
Welcome to the Press Center for ADAS & Autonomous Vehicle Technology Expo 2023 Stuttgart
Event Marketing
The logos can be used to post the event details on a company website or calendar listing.
---
These event logos and banners have been provided for use by sponsors, speakers and conference delegates to share information on the event with friends and colleagues.
---
Contact Us
Event Director
Chris Richardson
Conference director
Tim Sandford
registration / badge queries
Clinton Cushion
exhibitor queries
Exhibition operations manager
Event Venue
Messe Stuttgart, Germany
Landesmesse Stuttgart GmbH
Messepiazza 1
70629 Stuttgart
Germany