Some of the new products on show
Conference Highlight: Panel discussion – Safety validation for highly automated driving
ADAS & Autonomous Vehicle Technology Conference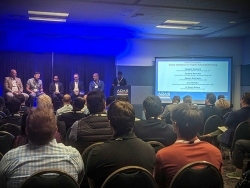 At the end of the conference on Day 1, Foretellix sat down with Bay Area and Silicon Valley technology leaders to discuss the challenges of safety validation of autonomous driving.

Dr Sagar Behere, vice president of safety at Foretellix, moderated a knowledgeable panel featuring Vangelis Kokkevis, head of simulation and validation at Woven by Toyota; Andreas Reschka, senior director of product, systems and safety at Pony.ai; Quresh Sutarwala, lead systems engineer at Kodiak Robotics; and Ury Zhilinsky, senior director and head of learned behavior and simulation at Nuro.

The discussion focused on how highly automated driving offers many potential benefits. However, despite technological progress, timelines for large-scale commercial deployments remain uncertain, the main barrier being safety. Our panelists discussed and provided insights into the challenges of safety verification and validation and the innovations needed to ensure safety and build a valid safety case.

In an interview afterward, Andreas Reschka enthused, "It was a great panel, the knowledge of the participants was brilliant. Discussions were very interesting, mainly because there were many different views. Safety validation, especially using simulation, is the most important topic in the industry at the moment."