Live news from the show
Day 2: High performance, reliable, and low-cost lidar for next-gen ADAS and AVs
Seagate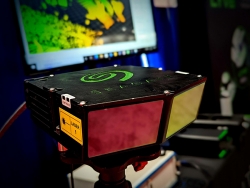 Renowned hard drive specialist, Seagate Technology, is in California to demonstrate its recently announced Gen 6 lidar, a high-precision, high-performance 120° FoV lidar designed for next-gen ADAS and autonomous vehicle applications.
---
Day 2: World's smallest platform robot for VRU tests receives full Euro NCAP approval
Humanetics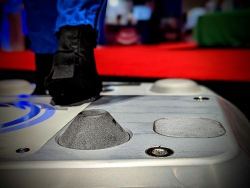 On Day 2 of ADAS & Autonomous Vehicle Technology Expo, Humanetics is showcasing its comprehensive portfolio of active safety test equipment, including its ultra-flat overrunnable (UFO) platform robots, soft target vehicles and self-driving driving robots.
---
Day 2: High-accuracy global precise point positioning (PPP) and orientation in nearly any environment
Trimble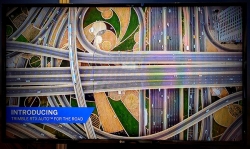 At the inaugural expo in San Jose, Trimble is showcasing its proprietary RTX technology that can deliver 2cm accuracy for certain applications, with better than 10cm performance for lane-level positioning on the road.
---
Day 2: ADAS recording-equipped vehicle, and ADAS replay and HIL validation
NI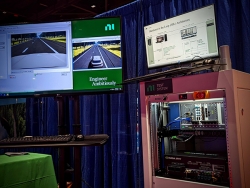 NI is on-site at ADAS & Autonomous Vehicle Technology Expo in San Jose to showcase its latest innovations for virtual validation, including its ADAS recording-equipped vehicle and its ADAS replay and HIL validation.
---
Day 2: LeddarTech showcases raw-data sensor fusion and perception for ADAS and AD systems
LeddarTech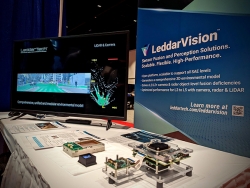 On Day 2, LeddarTech is demonstrating its raw-data sensor fusion and perception solution, LeddarVision.
---
Day 2: New next-gen ADAS targets for developing and testing active safety systems
AB Dynamics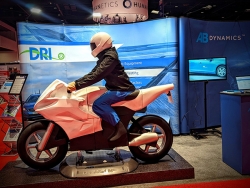 AB Dynamics, together with sister company, Dynamic Research Inc (DRI), is previewing two new next-generation ADAS targets at this week's ADAS & Autonomous Vehicle Technology Expo in San Jose, California.
---
Day 2: HIL live demonstration: when a physical ECU meets a software simulator
Xylon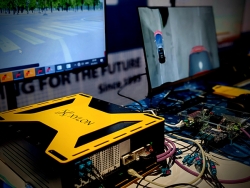 Electronics specialist Xylon is demonstrating live its complete demo HIL system that converts sensory data generated by a software simulator into real automotive stimuli for the attached parking assistance ADAS ECU.
---
Day 2: Moving ground plane enables full vehicle aerodynamic testing in a controlled environment
ACE - Ontario Tech University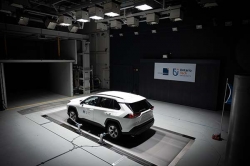 ACE – Ontario Tech University is showcasing its long moving ground plane on Day Two at ADAS & Autonomous Vehicle Technology Expo.
---
Live images from the show
ADAS & AUTONOMOUS VEHICLE TECHNOLOGY EXPO
AND CONFERENCE COMES TO CALIFORNIA!
Brand new for California – the new ADAS & AV Tech Expo for developing and building next-generation connected and fully autonomous vehicles. It's Here – San Jose McEnery Convention Center
September 7 & 8, 2022
It's become the leading expo on the subject in Europe and now it's set to become a permanent feature in California in September. The event will showcase developmental tools and service providers to improve ADAS and move toward full AVs.
Simulation, modeling, absolute positioning and signal testing are just some of the development tools that will be on show alongside lidar, radar, GNSS and ultra-high-performance cables and harnesses. Everything you need for your testing and vehicle progression under one roof, with expert speakers presenting at the adjoining conference.
What You Will See at the Expo
ADAS (e.g. pedestrian targets, datalogging, GNSS positioning, testing, validation, sensor fusion)
Connectivity (e.g. data, wireless, 5G networks, in-vehicle)
Cybersecurity
Legislation
AI and Sensor Fusion (e.g. Nvidia, synthetic data, raw data sensor fusion)
Simulation (e.g. digital twins, sensor performance, synthetic data, environmental test chambers, XIL, VIL, MIL, SIL, HIL)
Mapping
Positioning (e.g. GNSS, sensor calibration)
Safety
Validation and Testing (e.g. MIL, SIL, DIL, VIL, HIL, signal testing, sensors, ADAS, simulation)
Sensors (e.g. camera, radar, lidar, perception, GPS)
V2X (vehicle to everything)
Data logging, acquisition, and connectivity (e.g. cables and harnesses, video cameras, CPU acceleration cards, sensors)
Mobility solutions
& More!
OPENING TIMES
Opening times
Wednesday, September 7
10am – 5pm
Thursday, September 8
10am – 5pm
Event Venue
Event venue location info and gallery
San Jose McEnery Convention Center, USA
408 Almaden Boulevard,
San Jose,
CA 95113,
USA
Book a booth
For further details, please contact:
Event director
Chris Richardson